Hank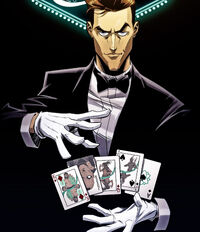 Aliases
Hank the Magnificent
Characteristics
Status
Occupation
Stage Magician
Origin
Hank Medley, aka. Hank the Magnificent, is a stage magician who possess magical powers and the ability to teleport. While performing his act in Las Vegas, his friend and mentor, Hector, showed up in the crowd. Hector warned Hank of what is going to occur, but Hank did not believe him. Suddenly, while performing his act again, Hank found that many of the Earth's population had vanished. Hank and his pet cat, Sparkles, possessed magical abilities, which meant they were left behind, however, Hector and Hank's girlfriend, Alle, both were transported to The Void. With help from the druid, Sudana, Hank was able to free all of the humans who disappeared, returning them to Earth.
Recently, Sudana has been taken and tortured by Ember Silva, and while Hank was asleep, he dreamt that she was in danger, and he woke up screaming. Shortly after he awoke, Terra showed up to take him too. Hank was about to teleport away, but it was too late to escape, so he teleported with Terra to an unknown location, the same location Ember was keeping Sudana.

Hank often says movie quotes or uses humour when feeling nervous or threatened.
Discover and Discuss
Edit